Awards
2022 Friends of Green Cay Scholarship

© 2016 Friends of Green Cay

Starting in 2012, The Friends of Green Cay Nature Center, Inc. has awarded a one-time Environmental Scholarship to high school seniors intending to study any of the environmental sciences.

The Scholarship Committee consists of three former educators.


Friends of Green Cay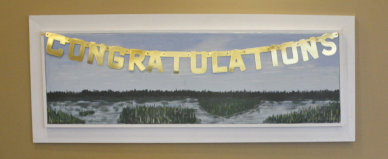 BENJAMIN CHENVEN
Benjamin is a graduate of Saint Thomas Aquinas High School and will be attending Cornell University majoring in Economics and Environmental Sustainability.

Benjamin's dedication to the betterment of the environment is shown by his studies and participation in programs in Roatan, Honduras and Key Largo. He was the treasurer of his school's Marine Biology Club.
It is a rigorous process. Students must show proof of acceptance to an accredited four year college or university, provide transcripts, demonstrate community service hours, obtain two letters of recommendation, and answer two essay questions, what do you think is the most important environmental issue facing us today and why, and has volunteer service made a meaningful impact in your life and education.

This year, scholarships were awarded to three winners. Each student will have $4,000 applied to their school accounts.

ISABELLA HOLDEN
Isabella is the recipient of the Shelly Hymowitz Award. Isabella is a graduate of the Somerset Academy and will be attending Florida Atlantic University with a major in Biological Sciences.

Isabella has been an invaluable volunteer, educational docent, and crucial team leader for the Okee-teen program at Okeeheelee Nature Center. She was a member of the Somerset Ocean Research and Conservation Alliance.

JONAH LYNNE
Jonah is a graduate of West Boca High School and will be attending the University of Central Florida- Burnett Honors College with a major in Environmental Studies.

Jonah is an environmentally conscience student as evidenced by the projects he participated in during AP Environmental Science class.
Friends of Green Cay Nature Scholarship Committee suddenly lost a valued member in Shelly Hymowitz. Among her many duties as a volunteer and as a member of the FOGC Board of Directors she particularly loved serving on the Scholarship Committee. She enjoyed being part of the process of choosing young scholars that will "change the world". A scholarship has been named in her honor.
2022 Friends of Green Cay Scholarship Winners